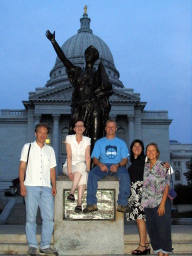 At the time I write this, I am now back in Madison, WI, and settled down for a time. I've been back home for about a week and a half, but shortly after I got home, I found myself a bit down in the dumps, even after the joy of returning to my home and friends. I have come to the conclusion that this is because my spirit and psyche seem to require that I have some type of travel plans in mind, whether it is a road trip a couple hundred miles to another part of the state or travel plans that involve a cross country or world trip. Because finances are limited, it is easy to think that, for the moment, something such as a cross country trip is out of reach, while a short trip across the state might be doable. And those were my thoughts earlier in the week. A world trip is out of the question for the moment, or so I thought. More on that in a moment.
My friend, Rick, and I get in to discussions about most anything, and at times these can be of a philosophical nature. Recent and ongoing discussions have covered the topics of how things seem to happen for a reason, how we learn from our experiences and how these experiences help us to prepare for the next big experience, how it took our past experiences, good and bad, to prepare us for this situation where we are now settled down in a home that very well suits us, in a nice neighborhood, surrounded by quality friends. Most importantly, for the topic of today's writing, we've discussed how our thoughts and actions can make things happen. When following one's passions, this can be a very good thing. A few years ago, I decided to follow my passions and as a result, I find myself a traveler and a writer, among other things. My passions lead to my excitement as written last month about the possibility of assisting Carlo Magno, who has MS, to make his own cross country trip. This helped me to realize that an ideal work situation for me might be to assist a disabled person with his own travel dreams.
However, when I came home, although I had discussed these thoughts with Rick and other nearby friends, I did not say much to my "day job" employer, a local home health agency. About the middle of the week, I received a call from my employer asking what I thought about the idea of accompanying an 89 year old gentleman on his trip to Hong Kong. Needless to say, there was a lot going on in my mind at that moment, perhaps a bit of last few months and years flashing before my mind's eyes, after all, I had recently decided that such a venture might be an ideal situation for me. But for a moment, I wondered what my employer might be thinking because of my brief period of silence. I finally found the strength to remove myself from my world of inner thoughts and flashbacks to tell her that yes, I would do this, that this would be a job that seemed to be tailor suited for me. My employer informed me that she would provide details later.
The next day, I found myself on a short road trip about an hour out of Madison with the elderly gentleman's brother to meet this person that wants to travel in spite of his age and related disabilities. The gentleman is an established and prominent attorney that plans to be a part of the People to People Ambassadors Program to share his legal knowledge with the Chinese people. As our meeting went on, we found out that we would not be going to Hong Kong, but rather China, making this trip just a bit more exotic and difficult than we originally thought. Stops are planned in Beijing, Guilin and Shanghai.
This also turned out to be a meeting where relatives and caregivers discussed difficulties that would be involved. Their goal was to perhaps talk him out of it. After all, he is 89 years old, this trip could be very hard on him, so hard that it could be his last trip, they discussed. Such a trip would be difficult for even a younger, more abled traveler. They discussed how such a long flight might lead to swelling in the legs and increased risk of blood clots that can result in a pulmonary embolism. They discussed that China is not so equipped for handicapped accessibility like the US. They discussed that his walking abilities were limited and that he would need to use his wheelchair most of the time, and that he might go places where he might need to climb stairs, and that climbing stairs was out of the question. They also discussed his need for care and wondered whether one caregiver would be enough, although there is a friend of his that would also be going. They did a good job of explaining many more difficulties, risks and consequences, but if their goal was to talk him out of it, they were not successful at this.
This was good in my mind. While all of this discussion was going on, I thought about Carlo Magno, the guy with MS, who was bedridden at one time, but overcame much to successfully travel from Anacortes, WA, in his electric wheelchair, to Missoula, MT, with plans to continue his journey. During the meeting, I tried to share some of my own travel experiences and experiences with the disabled, but I did not get to share much, as it was expressed that any of these experiences could not compare to assisting their 89 year old relative on this multi-city trip to China. They did ask if I still wanted to do this after all of this discussion. None of this discussion could change my mind. Rather, my thoughts were that the gentleman was passionate about his desire to go, so I asked what we could do to make this happen.
Eventually, it got to the point that the gentleman just wanted to leave the meeting. He had heard their comments, the risks and consequences, but he wanted to go to China. He felt that this would be a culmination of his life's experiences. Those speaking to him did not understand this. But I could understand this, after all, if this trip is successful, it could be a culmination of my own many life's experiences. And if we can accomplish this, I wonder what I could possibly do to top that. And at the end of the day, all were willing to help the gentleman to make this trip of a lifetime happen.
So it seems, I may be on the journey of a lifetime in October. There are many obstacles to overcome to prepare for this trip, especially for the elderly traveler, but in his mind it is going to happen. And even if it does not work out for health or other reasons, it was inspiring for me to learn that even an 89 year old can be passionate about his own life's interests. And if he is as passionate as Carlo Magno, or even myself, it seems that I will have many more exciting things to write about in the near future. Stay tuned for any new developments.
In the meantime, to help satisfy my current addiction to travel, a short road and camping trip to the place where the Wisconsin and the Mississippi Rivers meet is planned for next weekend.
To learn more about the People to People Ambassadors Program, you can go to their web site at http://www.ambassadorprograms.org/. To learn more about the planned itinerary, you can visit http://www.ambassadorprograms.org/upcomingprograms/law/print/print_james_silkenat.asp.